Our goal at Nordic IT is to create email software for maritime teams that is constantly evolving to best fit the needs of the industry.
With that in mind, we listened to the needs of our reMARK users, and we are upgrading the UI experience even further by making the system easier to navigate with four new updates.
New and Improved Icons for Better Readability
reMARK is an advanced email software, but that doesn't mean it should be complicated to use. You shouldn't have to hesitate or double check as you click around your business email. We want you to be able to swiftly navigate through your inbox to find and get exactly what you need for your workflow.
To allow for improved readability through our email software, we have updated the reMARK icons to ensure simple and easy to understand symbols. You'll no longer have to question or hesitate when utilizing your maritime industry email.
Increased Space Available to View and Write Emails
With our new reMARK update, there will be more room provided for you to browse and read your crucial maritime business emails.
More space will allow you to see more relevant column information, team actions, and larger folder structures in the email module. We found that this is especially important with lower resolution screens, so that everyone has the space necessary to view and write emails with ease.
Dark Mode for Night Reading and Working
Looking at the screen of your computer all day can easily cause painful headaches and eyestrain. Unfortunately, maritime industry email tends to pour in at all hours of the day and night. That is why we have added the capability to switch your Nordic IT reMARK client side to dark mode.
Dark mode can have many benefits, such as:
Blue light reduction which can affect your melatonin levels and ability to sleep
Increased contrast between text and background to avoid eye strain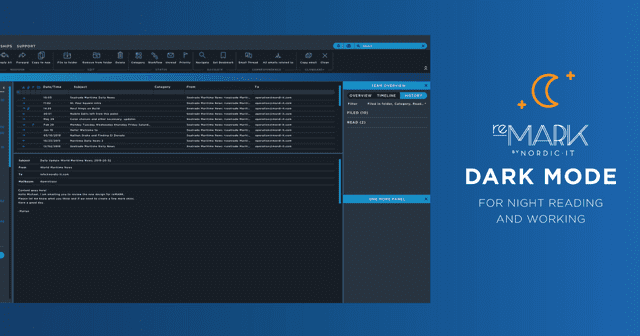 Overall Cleaner Look for the Mobile App
Organization is imperative in order for an email software to be effective for maritime teams. A cluttered app format can quickly waste your precious and limited time and cause unnecessary stress.
To solve this problem and create a better UI experience for our users, we have simplified the look of the reMARK mobile app for ease of access. Now you can spend less time worrying about your email layout, and more time getting down to business.
The reason reMARK exists is to allow you alternatives to Outlook and other emails softwares for ease of access and increased maritime industry email efficiency.
We know that you have the most experience and knowledge on how to best improve your email workflow as you interact with reMARK on a daily basis. If you want to learn more about the new reMARK UI updates and how they can help your business, contact us today to schedule a demo!